Trust and recognition
15.08.2013
Trust and recognition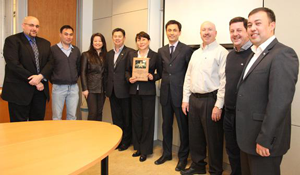 Novus Sealing Caspian Ltd (NSC) has been presented with an Achievement Excellence Award in Recognition of Outstanding Supplier Performance by Tengizchevroil (TCO) at the company's headquarters in Atyrau, Kazakhstan.Left to right: Kevin Smith (Contracts & Strategic Procurement Manager, Supply Chain Management TCO), Yertay Kadirgali (Application Engineer NSC), DiloraKuspaeva (Local content Development TCO), Marat Dauletyarov (Local Content Development Manager TCO), Oryngul Eszhanova (Founder NSC), NurlanSerik (Director of Domestic Market Development Group TCO), Steve Messer (Senior Procurement Officer TCO), Nigel E Hall (Flexitallic UK/NSC), Zhanabay Alshynbekov (Sales Manager NSC).
Novus Sealing Caspian (NSC) production facility was opened, in Atyrau, in July 2011.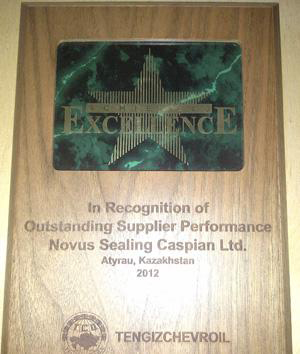 Since in country production commenced, NSC have supported TCO requirements for gaskets and Static Sealing products. In addition to the TCO BPA, NSC have been awarded regular TCO orders for locally manufactured products.
The current CT-KZ certificate shows local content up to 74.9%.During the 2012 major August TA, Novus Caspian were requested to supply a number of critical gaskets which were needed same day/next day to Tengiz site. The gaskets were produced and delivered within 24 hours.
This enabled TCO Engineers to complete TA tasks ahead of plan, in turn saving time and money on the event. This immediate delivery service had never been encountered in the history of the Tengiz site for such products.
In November 2012, an issue arose at Tengiz which led to the requirement of 2,500 hanger plates, cut from 370 square meters of 3mm thick 310 stainless steel.  The steel was supplied by TCO`s Russian vendor, direct to Novus Caspian.
The sheet steel was cut using the large NSC Plasma Cutting Machine and all plates were supplied to Tengiz within 72 hours.
Novus operated 24 hour shifts to complete the order. NSC`s quick delivery time enabled the plant to be repaired and restarted, preventing considerable losses in production.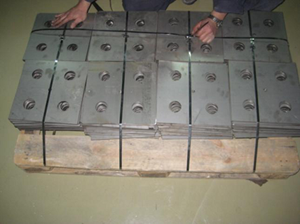 The receipt of such an award from TCO is a great honour for NSC and its employees. Recognition by such an operator is a major accolade in NSC`s development and future progress in Kazakhstan. Building NSC`s profile of in country manufacture and support to the massive potential in this Oil and Gas rich region of the world.
We are proud to be a supply partner of a highly recognized international operator and look forward to building on our reputation, backed by Flexitallic Group and Kazakh Joint Venture Directors». Since its foundation in 2010, NSC has developed its business with all major operators in the Caspian region of Kazakhstan. Assisting with the growth and profitability of the countries natural reserves in addition to the development of a highly educated Kazakh National workforce through investment and technology transfer to fulfill a sustainable business for the future.
Nigel E HALL,
Consultant
Flexitallic UK & Novus Sealing Caspian
© Novus Sealing Caspian