Novus Sealing's manufacturing facility in Kazakhstan
13.10.2011
Novus Sealing's manufacturing facility in Kazakhstan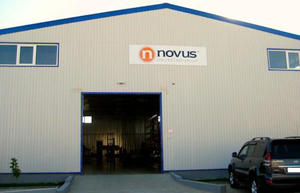 Novus Sealing's manufacturing facility in Kazakhstan has gone from strength to strength, and in less than a year the company; Novus Sealing Caspian LLP, is already playing a vital role in the country.
Although only opened less than five months ago, the company has already forged strong relationships with the country's industrial sector, which has led it to bring in new state-of-the art machines and equipment to support customer projects.
The company, which is based in the Atyrau Province, has also implemented an extensive on-going staff-training programme in gasket manufacture and fabrication, at Novus Sealing (UK) head office in Cleckheaton, West Yorkshire, UK.
Said Zhanabay Alshynbekov, Novus Sealing Caspian Sales Manager: ""There is a real demand for Novus Sealing products and our recent recruitment drive across manufacturing, sales and administration will allow us to continue supporting our customers' project needs."
Manufacturing facility, which covers 650m2, was officially opened by the country's President, Nursultan Nazarbayev, on 5 July, which was followed by a grand opening ceremony attended by VIPs, including government dignitaries and Novus customers.
To view videos of the opening ceremony please click the links below:
Novus Sealing Caspian LLP is currently the country's ONLY gasket manufacturer. Its purpose built production facility has the capacity to produce both standard and non-standard gaskets in metallic, semi-metallic and soft cut materials to international standards or customized to customers individual needs.
Said Nigel Hall, Flexitallic Consultant:"Over 57% of the country's industrial output is based on the extraction of petroleum, natural gas and minerals, so Kazakhstan is seen as a very prudent and long-term investment for us."
As one of the world's leading manufacturers and suppliers of sealing and jointing materials, Novus Sealing products are used throughout various industries across the world, including: oil and gas, power generation, mining, general engineering and petrochemical.
© Novus Sealing Caspian